The Pandemic has shifted a lot of 'set in stone' rules of accounting. By necessity CPA firms have learned much during the pandemic, from offering remote customer services to deploying cloud and other technology solutions, all with the goal of continuously providing their clients with superior service. Maybe the biggest learning from the pandemic is that collaboration – both with other CPA firms as well as other professions – is a long-term strategy for success.
CPA firms face multiple challenges which put a strain on resources. Many firms lack the budget and personnel to field an office in every region, let alone every state. With the adoption of virtual work, the firm can leverage its specialty by offering its expertise to other CPA firms throughout the US.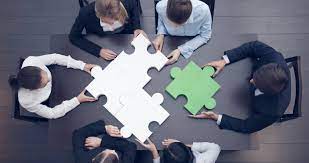 Rising CPA firms can expand geographically, diversify their client portfolios, better manage their business risks and create an environment for future success by partnering with CPA firms outside their own specialty areas. Firms that choose this route would still own their existing client relationships while giving themselves the opportunity to deepen these connections by offering a more complete solution through combining their knowledge and resources with that of their collaborative partners.
It was projected that collaboration, consolidation, and M&A are set to increase significantly among CPA firms in 2022 and beyond. This was projected after research has shown that M&A activity for accounting firms has increased steadily throughout 2021 after a pandemic-induced slowdown in 2020. (AICPA & CIMA ENGAGE 2021 Conference)
Whether you are the collaborator or "collaboratee," make sure to vet those value-add client services to ensure you have the right expertise so that your firm can thrive.